New World Trade Skill Aptitude Explained
Trade Skill Aptitude is a new system that will allow you to gain additional rewards after reaching level 200 in a specific Trade Skill.
---
Trade Skill Aptitude just got added to New World so, lets dig into it!
How It Works
After reaching level 200 in a Trade Skill, you will continue to gain experience that will increase your Aptitude Counter. Each Aptitude Level is split in 3 equal parts, each one of them giving you a reward cache. Once you complete a whole Aptitude Level, your counter goes up by one, the experience progression resets, and you start over.
Experience Requirement and Rewards
Each Trade Skill has its own experience requirement to level up the Aptitude Level and here is a list of how much you need.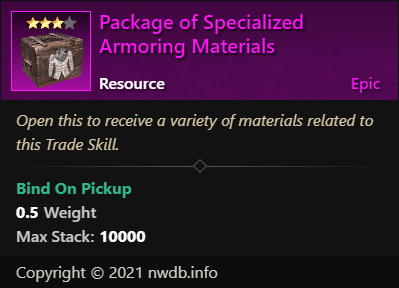 All Trade Skills
You will get an
Emerald Gypsum for every 1/3 of a Trade Skill Aptitude level. That's a total of 3 Gypsum per level. We've also guide a Daily Gypsum Guide explaining how to get them all and what the drop rates are.
Arcana
Armoring
Cooking
Engineering
Fishing
Furnishing
Harvesting
Jewelcrafting
Leatherworking
Logging
Mining
Skinning
Smelting
Stonecutting
Weaponsmithing
Weaving
Woodworking
For those of you who like to consume video content, Sethphir recently released a video going over the changes for the Trade Skill Aptitude on PTR.
---
About the author